April
Click here if this email isn't displaying correctly, or to see a listing of previous Library Newsletters
What's Newsworthy
April will be a busy month in the library with multiple events open to the PSC community. Here are some of the highlights:
For Earth Month, the library will have an outdoor Make it and Take event, open to all. This is an opportunity to plant seedlings and do crafts that can be taken home. This event will be within the Earth Month theme, and is open to all, including children.
Make It and Take It
Thursday, April 14th
12:30 – 2:30pm
Butterfly Garden
The Transfer Office and Library are pairing up for an April book display, as well as a brief event to promote their services.
Snacks Session with the Transfer Office
Wednesday, April 13th
10:30 – 11:30am
The Library
The library's next book club meeting is coming in April. Learn about the history of the African American experience, through popular music with Music Is History by Questlove. The book will be available through OverDrive from April 4th-18th.
Book Club Meeting: Music Is History by Questlove
Monday, April 25th
12:00 – 12:30pm
Google Meet joining info
Video call link: https://meet.google.com/ccd-zfdf-mpw
Or dial: ‪(US) +1 617-675-4444‬ PIN: ‪821 599 447 9677‬#
How-to use an institutional login to access databases and journal articles
Although the most reliable way to access PSC Library resources is to use OneSearch and the database page on the Library website, it's common enough to end up on a journal article after searching Google. Except that instead of being able to read the article, the publisher site is asking you to pay for access. Rather than opening up a new tab and searching for the title in OneSearch, you could try to use the Institutional Login method to log into the publisher/journal site.
For example, say you came across this article, "Higher Education and COVID-19: Global and Local Responses." If you hadn't come through the PSC Library's links first, you would be presented with the following page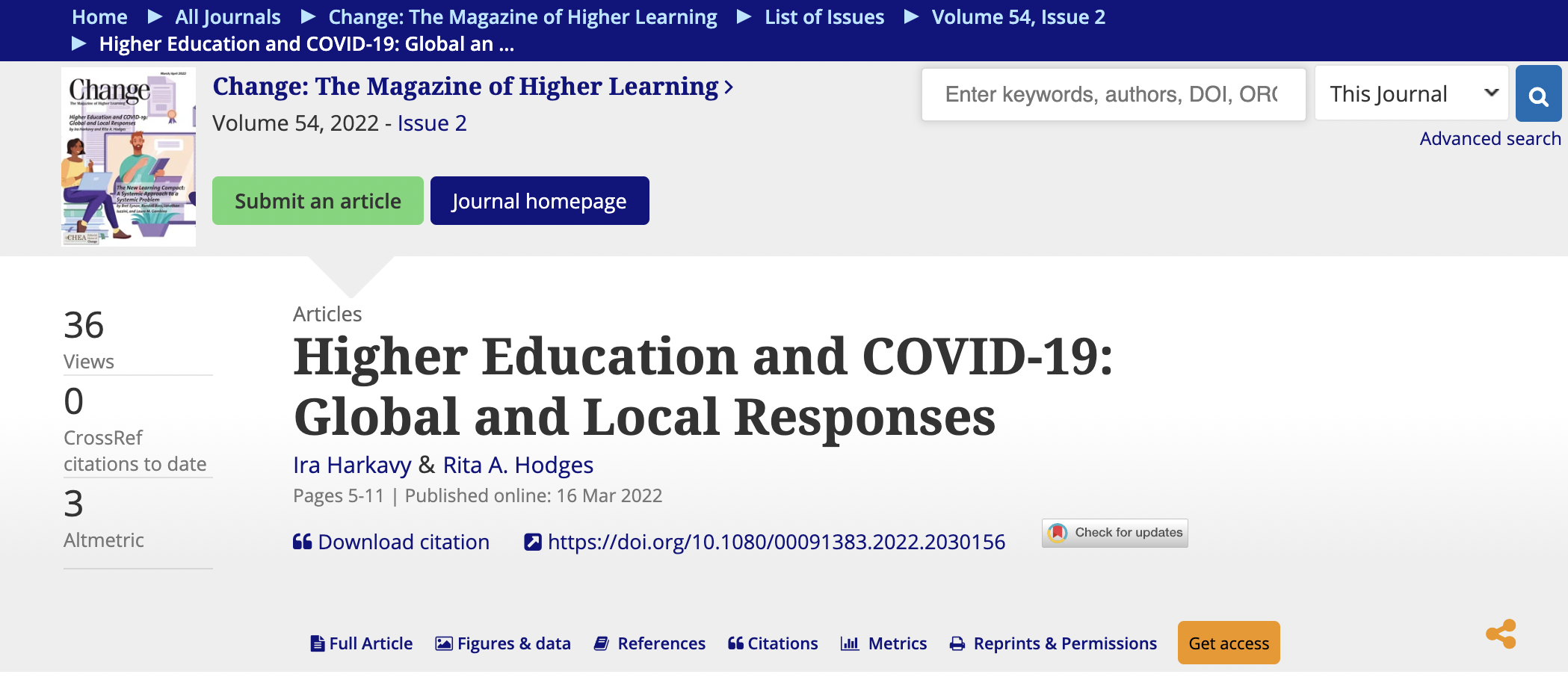 If you were to click on Get Access to actually read the full-text of the article, you would be presented with the following options.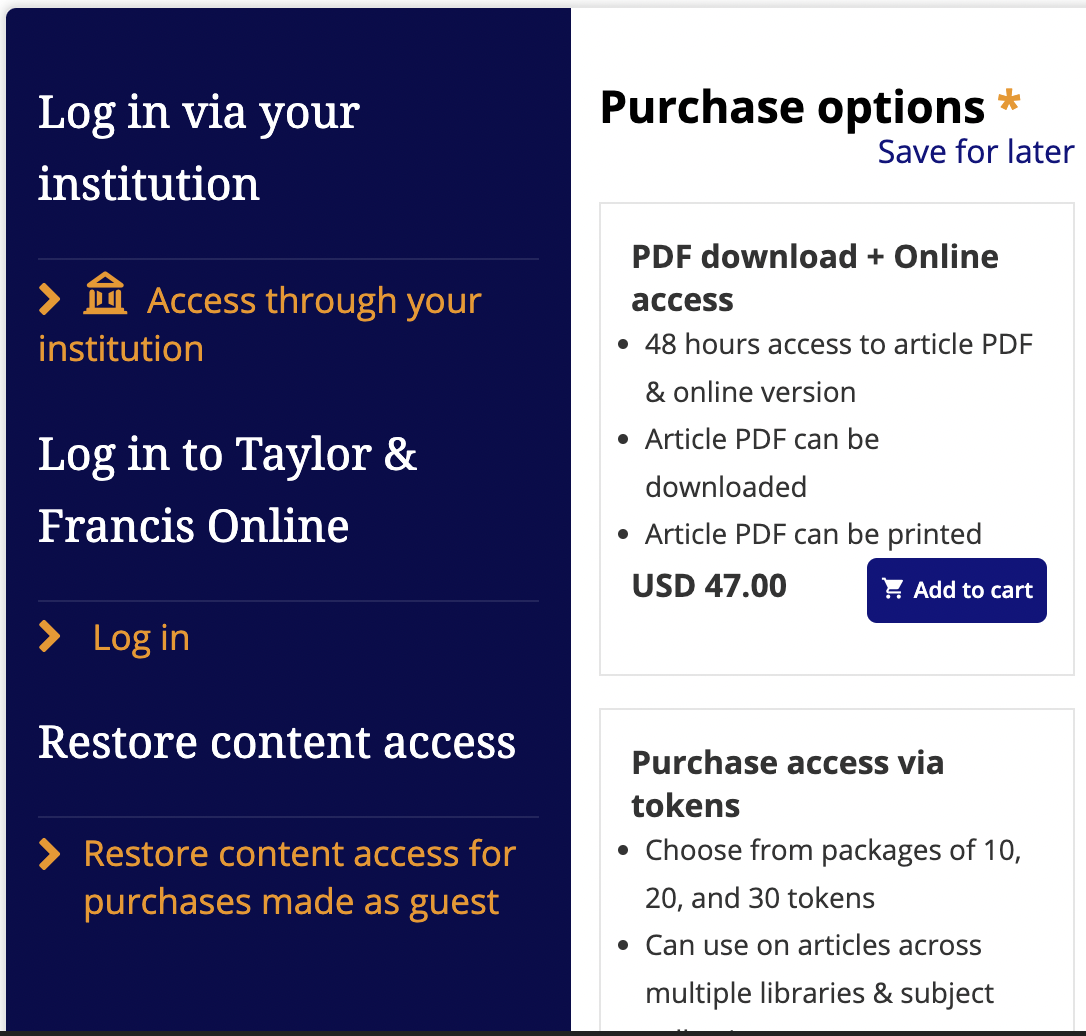 Definitely don't pay the $47! Instead, click on "Access through your institution." You'll be presented with a screen to enter Prairie State College.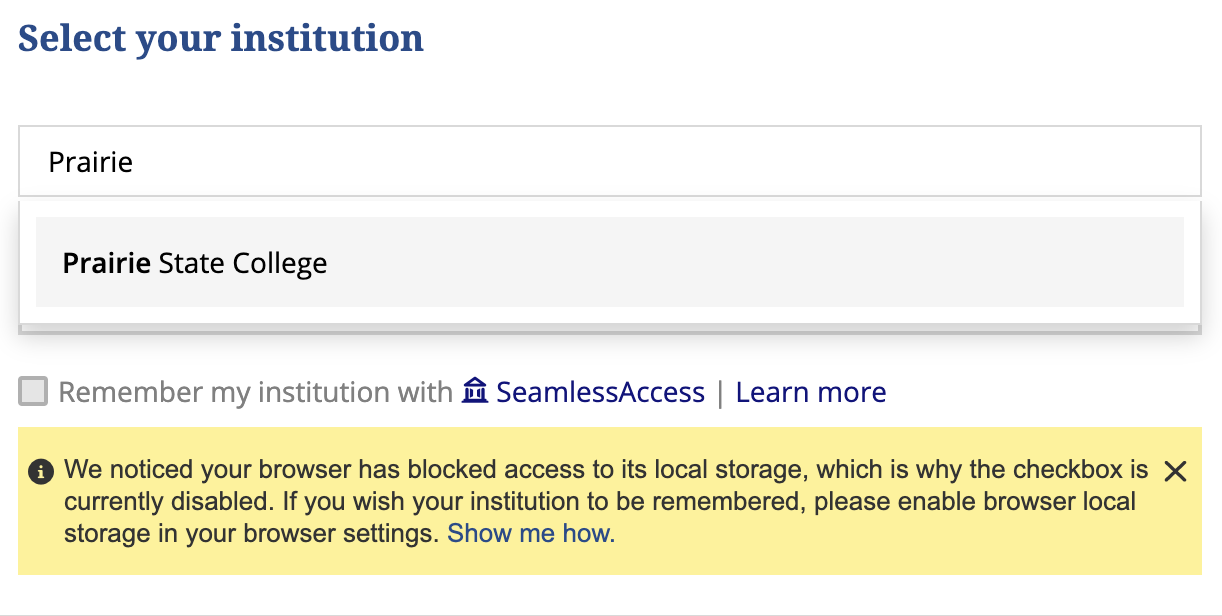 Once you click on that, you should be presented with the PSC Single-Sign On prompt, after which you should be able to access the article in question. Collection Management Librarian Thane Montaner has worked to enable institutional login across a wide range of electronic resource vendors, including Taylor and Francis, Wiley, Elsevier, JSTOR, Oxford University Press, Cambridge University Press, De Gruyter, MUSE, and others. If there is a platform you'd like to see this enabled, please contact him. Also contact him, if, after logging in, you still do not have access to the article. He can help you figure out the best options for getting access.
New collaboration
It is the time of year when some students begin to contemplate life after PSC, whether that be graduation, or transferring to a four-year institution. To assist with this process, Sarah Hein and the library are collaborating on a book display. You can see a portion of this list in this month's featured Ebooks below. This display will be up for the month of April and will feature topics such as writing college essays, finding a career that matches your values, and applying for scholarships.
This display will also feature a popup event with snacks to go. Sarah Hein will talk about the work her office does, and share with students:
Snacks Session
Wednesday, April 13th, and Wednesday, April 20th
10:30 – 11:30am
The Library
The library has partnered with the Writing Center historically for tutoring sessions, as well as the Biology Department, among others. As the library, we are a campus hub, and this also means a place for collaboration. We are always happy to collaborate if you have an idea.
Librarian Watercooler
Let's take a visit back to the archives. College Archivist Alex Altan has recently digitized thousands upon thousands of pictures, to allow the community easier access to them. (Don't worry though- you can always visit the Archive in person.)
It is the job of an archivist to preserve institutional history, and this would include the history of individual programs. One of his current projects was digitizing pictures for one of the oldest programs at PSC: Dental Hygiene. This program has been educating those in the profession for 54 years and we have images that span the program's history. To provide some context on the profession, and how much has changed in that 54 years, I reached out to Gail Szewczyk. This is her response,
"In 1980, HIV/AIDS was identified and new infection control protocols were developed. The dental hygienist now wears personal protective equipment (PPE), which includes gloves, eye protection, and a mask. During the pandemic, our students wear PPE, plus water-resistant gowns, scrub hats, and face shields while providing treatment.
According to the American Dental Education Association, 5.3% of students enrolled in dental hygiene programs are men. At Prairie State College we have about 3 men on average who enter the dental hygiene program each year.
We have a newly renovated dental hygiene clinic…The dental hygiene clinic is now open to the public. The fees are very affordable. An adult cleaning starts at $20 and is $8 for children. We offer a PSC discount for ages 55 and up." Call 708-709-3707 or email pscdental@prairiestate.edu to schedule an appointment for a cleaning.
Demystifying the library; library staffer of the month: Kate Nadolski
Each month we will recognize one library staff member and celebrate the unique talents that they bring with them to work. This month we celebrate Kate Nadolski as library staffer of the month. Kate divides her time between the reference desk and the Archives and loves working with students on their trickiest reference questions. Let's give a round of applause for all that Kate does!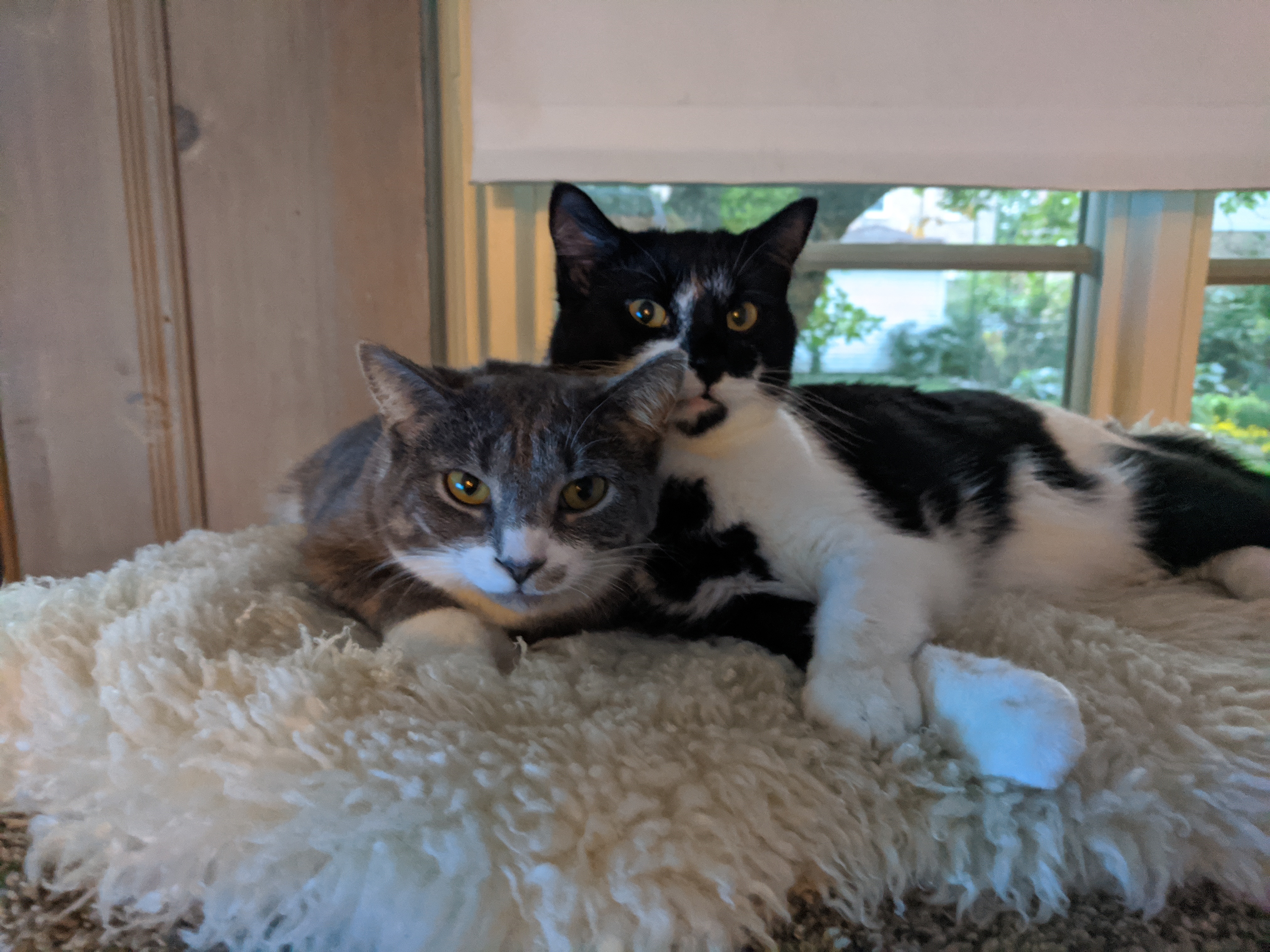 Kate's cats, Sun and Moon
What do you like to do outside of library work?
I'm a mom to an 11 and 13-year-old and a wife so my family life keeps me busy. I have too many hobbies! I enjoy reading, cooking, gardening, hiking, and exploring Chicago with my husband on our bikes. Music is a huge part of my life. I play electric violin with a jazz/reggae/ska group called Patois. I also play cello in the Fermi Community Orchestra as well as violin in an orchestra at Elmhurst University.
What is the main part of what you do and what are you proud of?
As a reference librarian, I am here to serve the students, faculty, staff and community members in the library. I assist them by answering reference questions, helping students with research, helping patrons locate an article or book, etc. I also help with collection development and teach library instruction sessions for ENG102 and COMM101 sessions. I assist Alex in the archives and CJ with cataloging projects as well. I'm proud of how the library staff has come together to adapt in order to continue library services during Covid. The level of service we maintained to our patrons during this tough time has been incredible and I am proud of all of our efforts.
What brought you here?
I was familiar with Prairie State College from a previous library job I had years ago. Our library used to have a partnership with an organization called Forefront (f.k.a. Donors Forum) which had Philanthropy Centers at community college libraries across the Chicago area. Susan Bayer (now retired) was the librarian I worked with here at that time. I came here periodically to conduct orientation sessions on prospect research. When I was seeking out a reference position at an academic library, I was excited to see a post here.
What is your vision of the library?
My vision is to not only continue our high level of service to our students and college community, but also to expand and adapt to the ever-changing landscape of what libraries are and how we serve our patrons.
Featured Ebooks
As mentioned above, we are partnering with the Transfer Office for a book display during the month of April. We are featuring some Ebooks from the display to give our students another avenue to these resources. This is only a partial list; for the full list, stop by the library!
| | |
| --- | --- |
| Sue Kaiden | Tom Kucharvy |
| Brian T. Malec | Gen and Kelly Tanabe |
| Gen and Kelly Tanabe | Gen and Kelly Tanabe |
| Rachel Toor | Shoya Zichy and Ann Bidou |
Lastly, the library is here for you; reach out with any questions at Ask a Librarian!