December
Click here if this email isn't displaying correctly, or to see a listing of previous Library Newsletters
Fall semester hours
Monday - Wednesday 8:00 AM - 8:00 PM
Thursday - Friday 8:00 AM - 4:30 PM
Reference chat will be available:
Monday - Thursday 8:00 AM - 8:00 PM
Friday 8:00 AM - 4:30 PM
What's Newsworthy
Finals Fest will return to the library during Finals Week (12/9 - 12/15). This event supports our students and celebrates their accomplishments. We will have beverages and snacks to-go. There will be a station for relaxation with games, puzzles, and coloring. Stop by for some hot cocoa and a chat with your favorite librarians.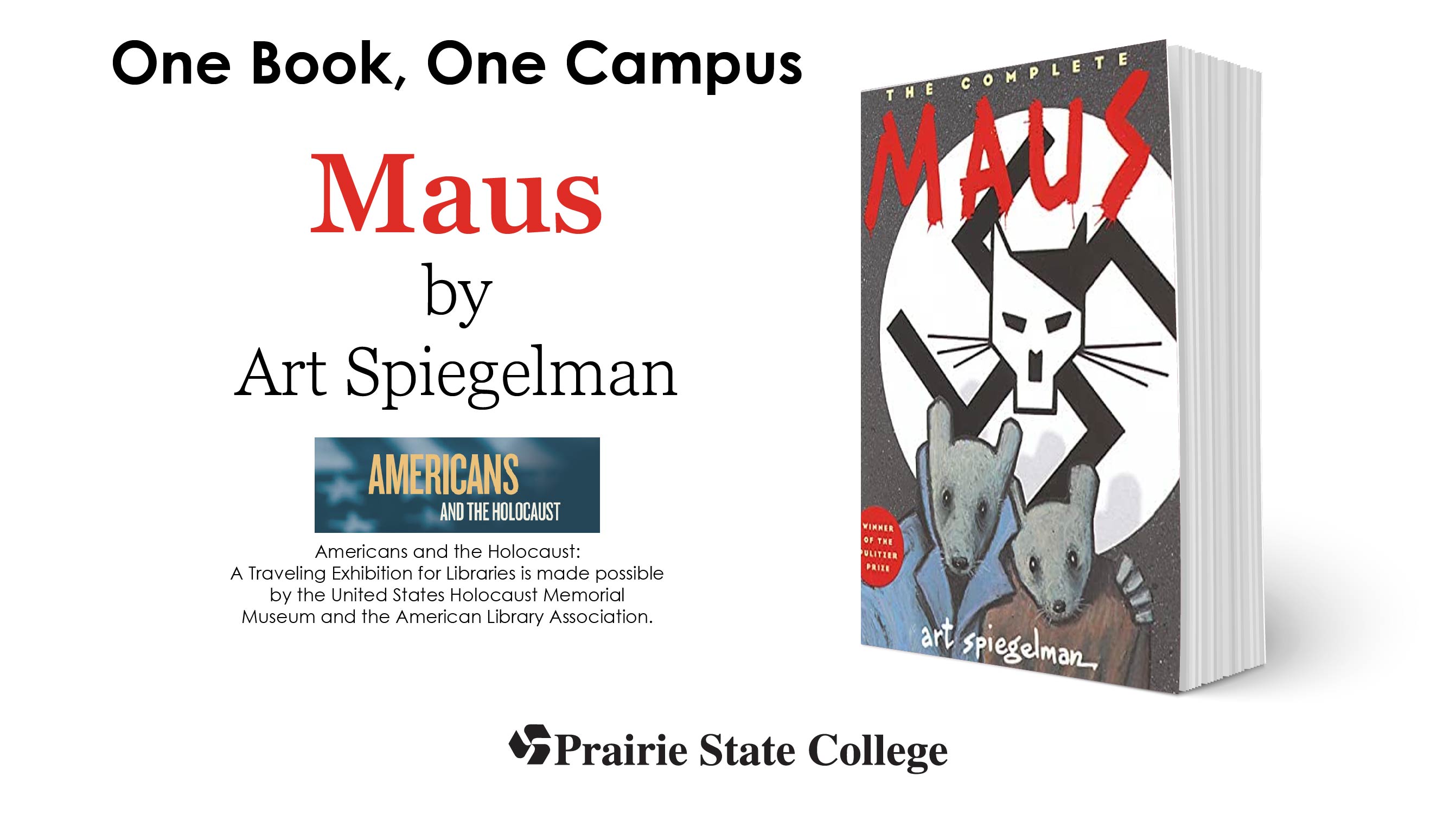 Last newsletter we mentioned that the Spring '23 semester will bring lots of programming in connection with The Americans and the Holocaust exhibition. Please join members of the campus and community in reading The Complete Maus, by Art Spiegelman. Through a series of personal interviews with his father, Maus tells the story of Vladek Spiegelman's survival from the Nazi death camps. Join us in reading the only graphic novel to receive a Pulitzer Prize. Faculty, if you would like your students to join in this program, please fill out this form. Mark your calendars for one of the two meetings to discuss the book. Both meetings will be hybrid. You don't need to attend the meetings to read the book though!
One Book, One Community
Tuesday, April 11, 2023 · 2:00 – 3:00pm
Google Meet joining info
Video call link: https://meet.google.com/sey-mrmr-bvw
Or dial: ‪(US) +1 720-907-3642‬ PIN: ‪993 277 423‬#
More phone numbers: https://tel.meet/sey-mrmr-bvw?pin=6724093100938
One Book, One Community
Tuesday, April 11, 2023 · 6:30 – 7:30pm
Google Meet joining info
Video call link: https://meet.google.com/dsx-zvcr-hjr
Or dial: ‪(US) +1 402-356-1282‬ PIN: ‪349 291 707‬#
More phone numbers: https://tel.meet/dsx-zvcr-hjr?pin=4521795319294
How to enjoy the Holidays on a budget
It may be the most wonderful time of the year, but the Holidays can be hard on your wallet. The cold weather can make you want to hibernate. We've come up with a list of low and no-cost family-friendly activities to get you out of the house and tire out your children.
The city of Flossmoor has a calendar of events. Enjoy the Holiday Lights Parade, or join the city for one of seven nights for the Kwanzaa Kinara Lighting, or for eight with the Hannukkah Menorah lighting.
From hiking, to snowboarding, ice skating, and snowshoeing, this guide will show you how and where you can participate in winter sports.
The Drama Group presents The Christmas Schooner, a musical from December 1-11th. The price of admittance is a donation to a local food pantry.
Holiday Lights in Homewood is free on December 2nd.
Enjoy a naturalist led hike under a full moon.
Forest Preserves of Cook County
Whether you want to hike, cross country ski, or sled, the Forest Preserves of Cook County have a list of wintry activities.
Forest Preserves of Will County
Join the Forest Preserves of Will County for a Winter Wonderland in the Woods. Enjoy s'mores, hot chocolate, and the great outdoors.
Palos Heights is hosting a Kris Kringle market, a free outdoor event with crafts, activities, and of course, Santa.
Tinley Park is hosting Holiday Happenings in Downtown Tinley Park. This event will have free entertainment, crafts, activities, and food.
LaSalle County has multiple events for the Holidays, from a market, to the Celebration of Lights.
Something new
In parallel with the Americans and the Holocaust, we are hosting multiple events, which are free and open to the public. All will be in person, but some will have a hybrid component. Next year we'll have a webpage dedicated to the exhibition, including a calendar of events. In the meantime, mark your calendars for:
Ethical Leadership, lecture, Lalinda De La Fuente, Associate Professor, Sociology and Coordinator, Social Sciences
3/22/2023
11:00 a.m. - 12:25 p.m.
Proven IT Room, PSC Conference Center
Social Psychology of the Holocaust, lecture, Dr. Dianne DeSousa, Professor and Coordinator, Psychology
3/28/2023
10:00 - 10:45 a.m.
Proven IT Room, PSC Conference Center
Fleeing the Nazis: A Journey of Two Sisters, lecture Bruce Mainzer
3/27/2023
12:30 p.m.
Proven IT Room, PSC Conference Center
Evolutionary Psychology of Discrimination lecture, Dr. Cynthia Cornejo, Professor, Psychology; and Dr. Angela Hung, Associate Professor, Biology
3/30/2023
9:30 a.m.
Proven IT Room, PSC Conference Center
Violins of Hope Concert, Violins of Hope is a project based on a private collection of Violins, violas and cellos all collected since the end of World War 2. Many of the instruments belonged to Jews before and during the war. They were donated by or bought from survivors; some arrived through family members and many carry Stars of David in an inlay
4/17/2023
7:00 p.m.
Barnes and Noble College Auditorium, PSC Conference Center
50 Children: One Ordinary American Couple's Extraordinary Rescue Mission into the Heart of Nazi Germany, movie and lecture, Steven Pressman, director and writer.
4/13/2023
6:00 - 9:00 p.m.
Barnes and Noble College Auditorium
Art Exhibition
4/24/23 - 5/16/23
Christopher Art Gallery, Prairie State College
One Book, One College, Maus I: A Survivor's Tale: My Father Bleeds History, by Art Spiegelman, book discussion
4/11/2023
2:00 p.m. and 6:30 p.m.
Prairie State College Board room
Librarian Watercooler: : Genrefication
by CJ Raich, Library Technical Assistant
Recently CJ finished a massive undertaking – the genrefication of our entire fiction section. He wrote this section to discuss the project, why it matters, and how it will help you better find that perfect book.
What is genrefication?
Genrefication, generally speaking, means organizing items into different genres. In the Prairie State College Library, we have a small but rich fiction section. While we have been diligently ensured this particular collection includes a wide range of stories, it's not easy to see by just the title what each book offers. So, this summer we started putting a number of different genre labels on our fiction books.
Why does it matter?
For the average Prairie State College Library user, this means that it will be quicker and easier to find fiction that suits what you are looking for. The books in this section were already in order by the author's last name, but now you can see what kind of stories they tell. For example, you might know that Stephen King writes a lot of horror stories, but now you can also see that he has a few fantasy novels. Or you might be searching for a romance novel to help you relax for a little while during your down time between classes. Maybe you're on a quest to read more of the classics but aren't sure who wrote them. Now it's easier to find them all just by browsing.
For us library workers, genrefication of our fiction collection also helps us figure out what stories we are lacking. For example, we found out that we had a pretty large amount of historical fiction but not a lot of romance novels. We also found that we had a lot more short story collections than we realized. We recognize that not everyone has a desire to read the same genres, and that's okay! Each genre deserves its time in the limelight. We want you to find the kind of stories you enjoy reading for fun as well as those literary classics you might need to read for class. We are always trying to manage our collection to fit our students' needs, and we are learning a lot about our users and our collection even though this project is just newly finished.
What does this mean for the future?
As time goes on, you will see more changes made in this as well as other sections of the library. Next we will be reorganizing our juvenile book collection. It will also be genrefied, but in a way that will be more accessible for children and their parents. In making these changes, we hope to make a more open, accessible library for all our users.
Featured eBooks
"Music is the emotional life of most people."
― Leonard Cohen
This month we feature books about music and collections you can hear. In addition to ebooks and print books on the topic, we also have collections of music. With your PSC login we provide free access to the Naxos Music Library, "the most comprehensive classical music library online." While Naxos is best known for classical music, it also has jazz, world music, pop, and rock. Classical Music in Video "supports the teaching and research of classical music with coverage of all major genres and time periods from medieval to contemporary, from choral works to symphonies, operas and the avant-garde." Happy listening!
| | |
| --- | --- |
| Moslih Kanaaneh | Bill C. Malone and Charles Reagan Wilson |
| Bobby Owsinski | Questlove |
| Matej Santi | Roger Scruton |
| Samuel Z Solomon | Jeff Tweedy |
Lastly, the library is here for you; reach out with any questions at Ask a Librarian!