March
Click here if this email isn't displaying correctly, or to see a listing of previous Library Newsletters
What's Newsworthy
The library now has a TikTok account. If you aren't familiar with TikTok, ask your kids and be prepared to emerge from the internet hours later after enjoying short videos. #librarytiktok is a fun and whimsical place, and I think we can all agree that we need more of that right now.
How-to suggest materials
We are happy to make purchases and regularly grow the collection based on your input. Please fill out this Google form to suggest materials or email Thane Montaner. Ideas include recommended materials for your classes, scholarship for your research, and books, music, or videos for pleasure.
And, we are always looking for ways to display different parts of the collection to new audiences. If you have a suggestion for a book display, please fill out this Google form and let us know.
New research guide
Based on Bill Condon's Better Teaching Workshop covering accessibility in the online classroom, our newest research guide archives all of the best practices and guidelines provided. This guide can be used to help you incorporate effective accessibilities so all of your students can access and use your course materials.
Librarian Watercooler
Due to the pandemic, we are no longer chatting around the actual watercooler, but we do constantly share different articles with each other on various professional interests. If we thought you had endless time, we would share them all with you too!
In her article, Principled Uncertainty: Why Learning to Ask Good Questions Matters More than Finding Answers, Barbara Fister discusses the academy's strategies for teaching writing and research. Fister worries that students have their own original questions, but shy away from writing about them, opting instead for questions that have been researched already and can easily be investigated. "Sources are not consulted to learn more about a question, but rather to be mined for evidence to support claims." This means that students aren't researching topics that truly spark their curiosity.
In their professional lives, students will regularly need to seek information without easy or quick answers. They will often have to search with incomplete or misinformation. When students have spent years creating research based on satisficing, it leaves them ill-prepared for these situations. Allowing students to start with questioning could help them better prepare for the workplace.
Fister, B. (2022, February 16). Principled uncertainty: Why learning to ask good questions matters more than finding answers. Principled Uncertainty: Why Learning to Ask Good Questions Matters More than Finding Answers | PIL Provocation Series. Retrieved February 23, 2022, from https://projectinfolit.org/pubs/provocation-series/essays/principled-uncertainty.html
Demystifying the library; library staffer of the month: Kennedy Taylor
Each month we will recognize one library staff member and celebrate the unique talents that they bring with them to work. This month we celebrate Kennedy Taylor as library staffer of the month. Let's pause for a round of applause for all that she does!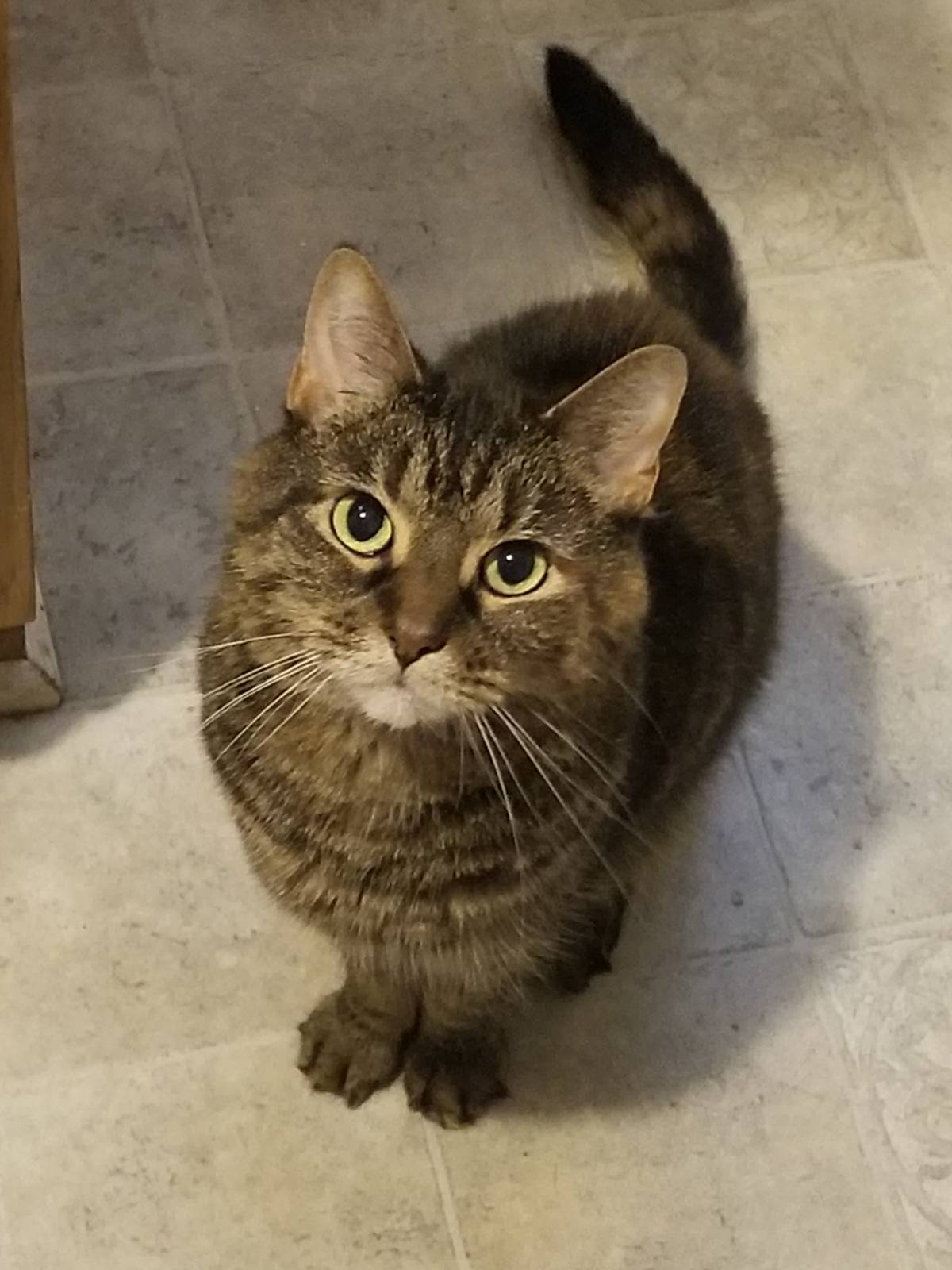 Kennedy's cat, Keiko
What do you like to do outside of library work?
I mostly like to relax at home and do some of my hobbies. This includes gaming with friends and generally spending time with my family.
What is the main part of what you do and what are you proud of?
My main job is working at the circulation desk. I help students with finding materials and answering any general questions they have. What I'm most proud of is helping the senior members of our community become acclimated with new technology and helping them in their continuing education.
What brought you here?
I was a student at Prairie State and thought this would be a good opportunity for me to work while attending classes.
What is your vision of the library?
My vision of the library is somewhere students and community members can go to feel relaxed. We want them to know there's nothing we can't help with and if it's not in our power we can point them in the right direction. (This response was edited for clarity.)
Featured Audiobooks
Typically we feature eBooks in this section of the newsletter. Did you know that the library also has audiobooks? In case nobody ever told you, listening to audiobooks is reading. Our audiobooks can be downloaded through either OverDrive or Libby apps and then enjoyed on a phone or even streamed during your commute. These are just some of our current, popular, nonfiction audiobooks available.
| | |
| --- | --- |
| Malcolm Gladwell | Anne Glenconner |
| Norman Ohler | Bernardine Evaristo |
| Bruce D. Perry and Oprah Winfrey | The Try Guys |
| Andrea Wulf | Ed Yong |
Lastly, the library is here for you; reach out with any questions at Ask a Librarian!