September
Click here if this email isn't displaying correctly, or to see a listing of previous Library Newsletters
What's Newsworthy: Maus class set and conference
In the spring semester, the library hosted a One Book, One Community reading of Art Spiegelman's graphic novel, Maus. 375 members of the campus and wider community participated! In fact- we purchased every single available copy from the publisher to give away to PSC students.
The library has a single classroom set (25) available for checkout, should you want to use it again for a class. There are also copies available on the shelf, and there is even a copy for instructors. If you have any questions, please email Valerie Moore, vmoore@prairiestate.edu.
In October, Dawn Sterning and Valerie Moore will present at Illinois Library Association (ILA)'s annual conference on our experience hosting the Americans and the Holocaust traveling exhibition. Wish us luck as we travel to Springfield to represent PSC.
How to stream library movies and access ebooks/audiobooks
The PSC Library offers many ebooks and audiobooks through a service called OverDrive available through our website. OverDrive recently discontinued the old OverDrive app in favor of its new app, called Libby. Libby is available for Android, iOS, and Amazon Fire devices. It also has a web version located here, which gives users access to all features, including the ability to make recommendations to PSC librarians about titles to purchase. For more information about how to log into Libby and access its features, check out this new guide. Of course, if you have any questions about Libby, or just want to make purchase recommendations directly, contact your librarians.
Kanopy isn't a new feature exactly, but it is one we are highlighting because it is just a fun place. Kanopy is a streaming service for movies that is free from the library's website with your PSC username and password. Kanopy has documentaries, the Criterion Collection (a collection of the best movies ever made), and other movies for a great night in. We'll provide the movies, and you the popcorn. The details for accessing Kanopy are below.
Right now Kanopy is highlighted on the library's homepage, so please feel free to click on it there: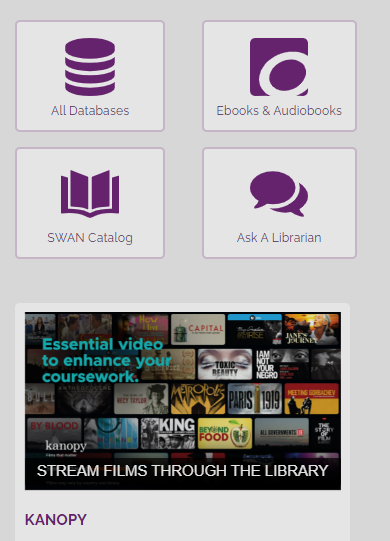 If you are not already logged into your PSC account, you'll be prompted to do so at this point.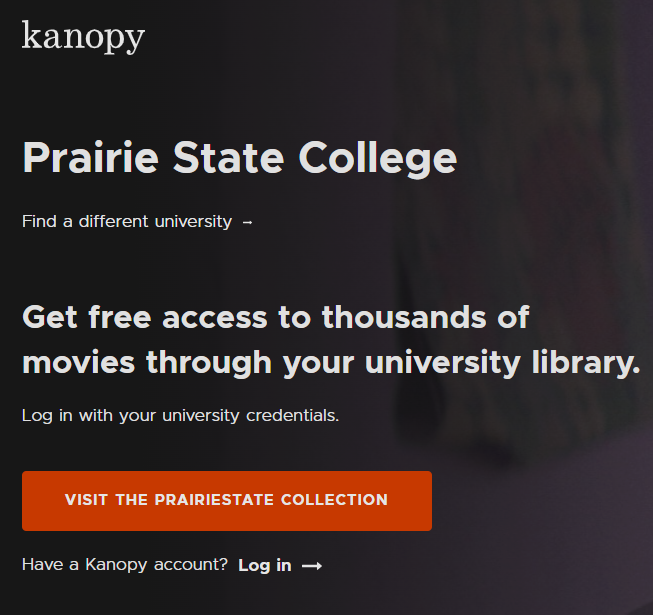 Click on "Visit the Prairestate collection" and search for what you want to watch!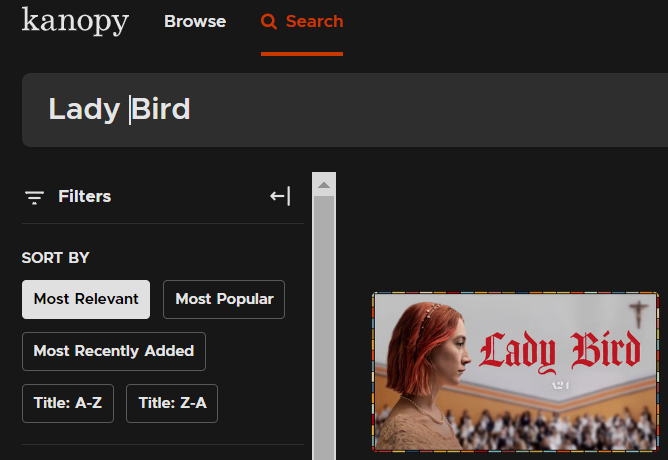 Enjoy!
Someone New: Meet Diane Anderson!
I'm happy to introduce our new Research and Instruction Librarian, Diane Anderson. If you see her in the hall or the library, please say hi. We sat her down to get to know her better and introduce her to all of you.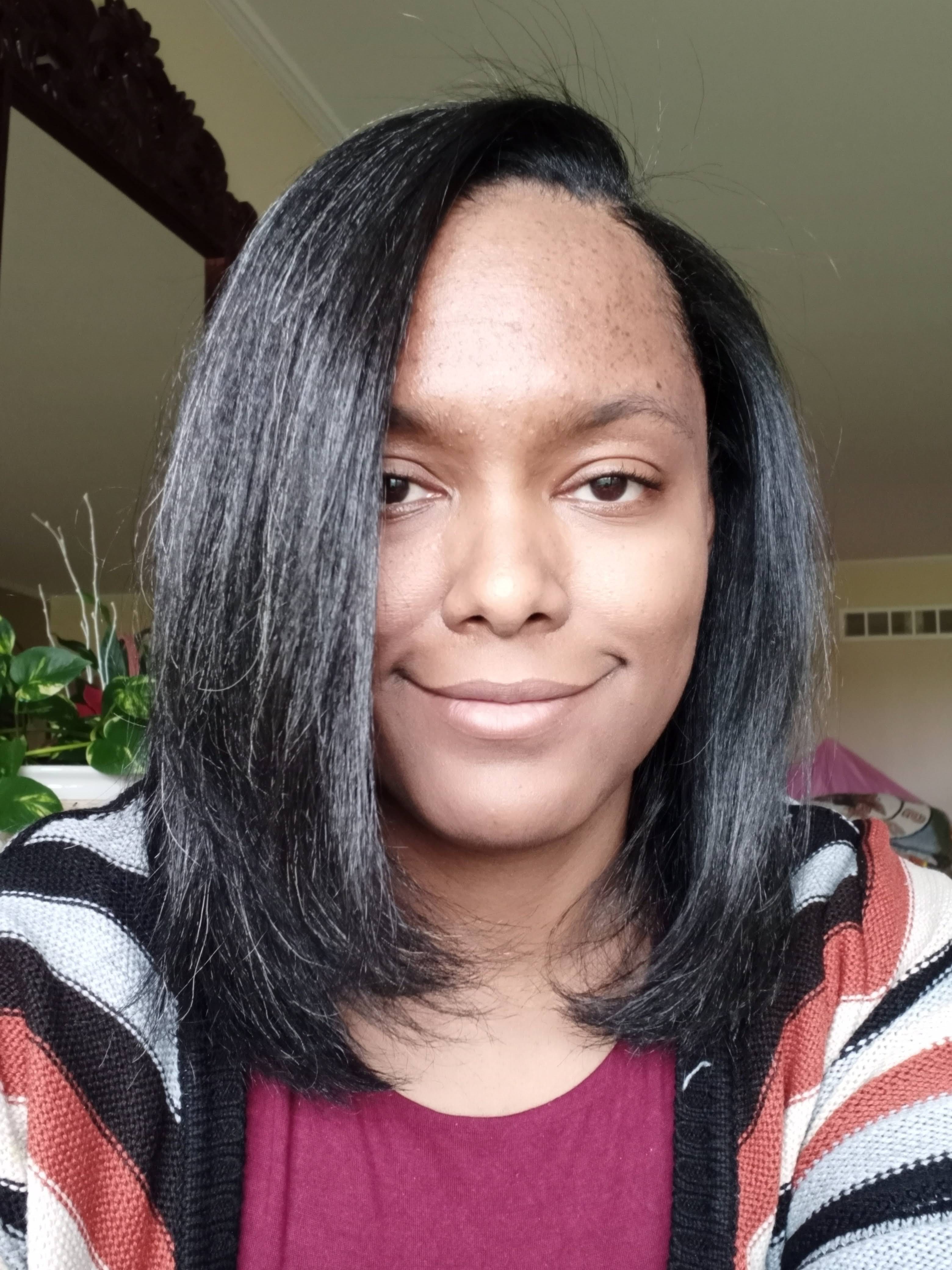 What brought you to Prairie State?
The biggest reason that brought me to Prairie State was my passion for instruction and curriculum. I wanted to continue to be a part of the learning community and bring what I have learned about information literacy and libraries with me. I am a little familiar with some of the surrounding communities from my time here during my childhood. I learned a lot during that period of my childhood and I would like to be able to contribute to the community.
What do you like to do outside of work?
I enjoy playing guitar and dancing. Both make me very happy. Currently, I am learning to play acoustic guitar. When I get comfortable enough, I will get an electric guitar. As far as dancing goes, my last dance I was into was Argentine Tango. I did tango for a little over three years. I hope to find instructors again so I can continue learning.
What is the main part of your job?
Information literacy instruction is the main part of my job. I help students to understand and connect their research processes to activities we do both in and out of higher education. I believe it is important for students to know they are knowledge creators and continue to grow as lifelong learners.
What are you proud of?
It is hard to pinpoint what I am most proud of. I think I can say that I am most proud of my students when they are able to apply knowledge from our instruction sessions to other classes and resources.
What is your vision for the library?
I want the library to be a place where people can come and ask questions or troubleshoot problems, where we work collaboratively with members of our institution, and help propel Prairie State forward.
Librarian Watercooler: Library Consortium
Individual libraries have collections of books and resources on their respective websites. However we can't have everything; there isn't enough space, time, or money. As a solution, libraries borrow from one another through a service called interlibrary loan. The PSC Library participates in interlibrary loan and can get you materials from another library usually in a matter of days. If we don't have something you want, don't despair, you can fill out this interlibrary loan form and get it from another library.
One way to facilitate easy interlibrary loans is through something called a library consortium. A consortium is a collaboration of libraries to share things easily among one another. This is typically done by a group of libraries in the same geographic area. One such local consortium is called CARLI (Consortium of Academic and Research Libraries in Illinois). This is a membership service that connects college libraries across the state- allowing them to exchange materials quickly and efficiently. It also means that member libraries can get (almost) anything their patrons can imagine.
While we've been CARLI members for a while, we are joining something called their I-Share system, which will bring some changes to the Library search and catalog starting next June. It will also expand the number of books and other resources we can quickly provide. We'll walk you through this change when it comes, but in the meantime, know that you can get books and articles from many of the state's academic libraries in a matter of days. Faculty, staff, and students will also gain the privilege of visiting and borrowing materials directly at other I-Share libraries.
Featured eBooks
Please visit the library for our Barbenheimer book display. For the Barbie movie, we have books on feminism, the patriarchy, and toxic masculinity. For Oppenheimer we have books about the Manhattan Project, J. Robert Oppenheimer, the philosophy of war, and technology from war. We've included the ebooks from the display below for your enjoyment.
Gerard Casey

Patricia Hill Collins

Mikki Kendall

Mimi Marinucci

Richard Mason

Jeff Porter

Mary F Rogers

Anastasia Salter
Bridget Blodgett

Silvan S. Schweber

Charles Thorpe
Lastly, the library is here for you; reach out with any questions at Ask a Librarian!